Expert Grill Charcoal Pizza Oven
If you've been curious about the Expert Grill Charcoal pizza oven, let me peek your interest even more. This portable pizza oven is perfect for any pizza lover but it can do so much more. The best part about this pizza grill is that it's affordable and available in Walmart.
These days finding an affordable and good pizza pie is hard. What do you do when the consistency of the pie changes or your favorite pizza shop closes due to Covid-19? You get your own pizza oven, of course! While it might sound daunting to make your own pizza using charcoal, it is as easy as one-two-pie, thanks to Expert.
Expert Grill Charcoal Pizza Oven
Expert Grill Pizza oven is lightweight, easy to assemble and use. The charcoal pan lays in the back, for easy charcoal pouring and cleaning. Once the charcoal is lit and the oven is heated above 700F, you can pop in your pizza pie and enjoy it in just a few short minutes.
This charcoal pizza oven can be used for a lot more than just pizza. You can heat a cast iron skillet and sear steak and other meals. You can make pita pies, chicken, burgers and anything else you want to experiment with. Remember, pizza dough can be used for numerous things including breadsticks, cinnamon buns, buffalo chicken bites, and flatbread.
The first night that we got the pizza oven we made a cheese pie, two sweet calzones, and meat pita called burek. We got too excited about the pie and did not wait for the oven to reach 700F. Instead, we placed it in the oven when it reached 500F. It took a little longer for the pizza to cook on this temperature but it was delicious!
The next day we made two more pies, this time letting the pizza oven reach full temperature. The pizzas were done in two minutes or less and had the perfect burnt crust. So far we've made a few more pizza pies, and they all came perfectly done! No raw pizza dough or hard crust.
Pros
Affordable at just under $140
Easy to assemble and use
Versatile -can make more than just pizza pies
Portable- Can take on trips, camping, or different locations in your yard with ease
Easy to clean
Expert grill 15″ charcoal pizza oven
Cons
Doesn't include a pizza peel
No vent cover
Door needs to be removed/lifted off to use the oven
While the Expert Grill charcoal pizza oven has a few flaws, overall it's the one of the best pizza ovens around. It's easy to use and the pizza cooks perfectly each time! This charcoal pizza oven can be used outdoors on campsites, in your backyard, on your deck, or for your mobile restaurant. Quick and delicious pizza has never been easier when you have the right pizza oven!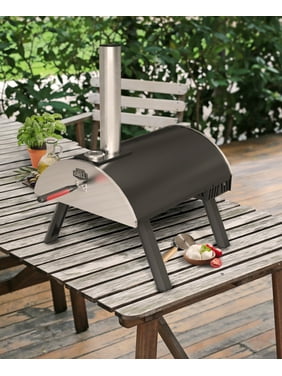 Expert grill 15″ Charcoal Pizza Oven Video